Tee Off with Tiger
- Multi-channel Buick Event Promotion
Imagine you had the chance to win a nine hole round of golf at Torrey Pines with Tiger Woods as your caddie. Well that's just what happened for one lucky winner. During the 2008 golf season fans got the opportunity to predict Tigers score for each tournament he played in. Instantly entering them to win Tiger's tournament Buick. Winners of the tournament Buick were entered to win the grand prize a day of golf with Tiger Woods as their caddie.

For this promotion I was involved as an Art Director. Evolved with everything from TV and print to the website and rich media OLA. Check out the work. The Tee Off with Tiger site generated a huge boost of traffic to the main Buick.com site. Results showed a great deal of time interacting with the Buick lineup and exploring all the features and image galleries.

The rich media OLA allowed users to interact with the cars as well as fill in the front nine of their Tiger prediction for that weeks tournament. It was then a simple login to fill out the back nine with the front nine already populated. Users could also get tips about Tigers past performances at any specific course from Tiger's trainer and coach Hank Haney.

When we pitched the TV spot to Tiger he loved it. We ended up creating two versions of the spot because of all the awesome footage.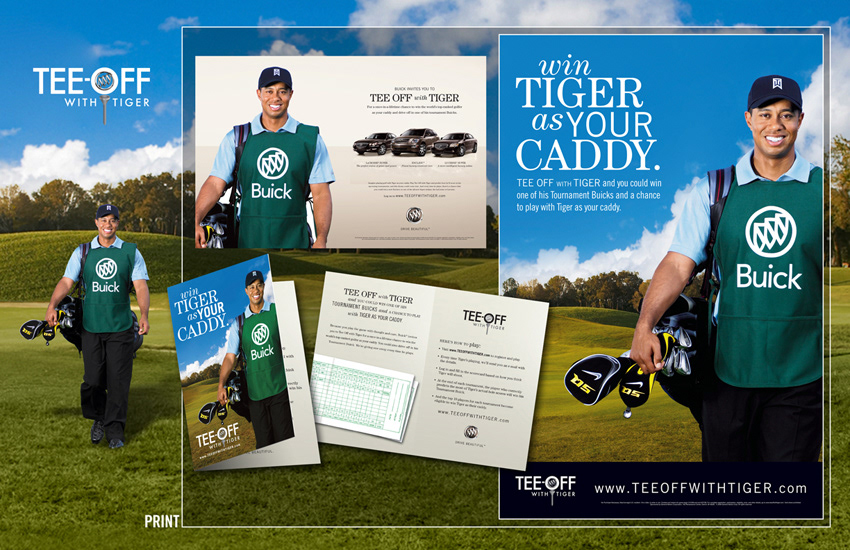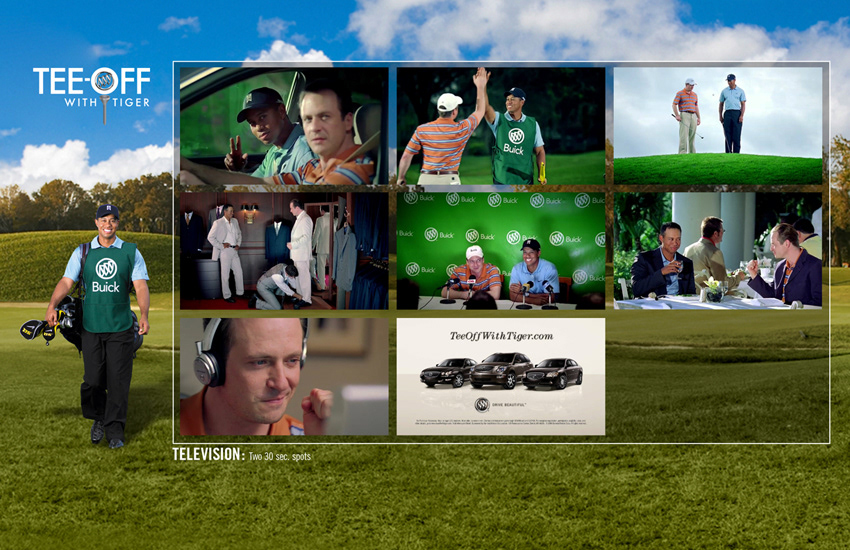 Buick, In the News
- Integrated Marketing 
Campaign
In 2017 Buick went head to head with Lexus for the coveted J.D. Powers award for dependability. Buick radically cut their product line down to three models. The Buick LaCrosse, Enclave and Lucerne. The comparisons were made that the new Buick's were quieter than a Lexus RX 350, more spacious than a Mercedes R-Class and a better frontal crash test rating than a Volvo XC90. Those comparisons created a lot of news and the "In the News" concept was created, Buicks blowing out of their ad space and tearing up the news. The full page ads incorporated old New York Times content that they allowed us to use and modify so the Buicks could drive though the news.
The online ad campaign that followed were Buicks ran through the banners and driving through the page content, using quotes from some of the most respected auto industry writers. And by the end of the year ads were developed that encouraged people to simply google "buick vs lexus", the search results did all the talking for us.